EaseUS Data Recovery Wizard Free is a type of recovery software that supports the recovery of lost files and partitions. You can get both free and professional version, and they only thing the free version differs from the paid version is the limitation of 2 Gigabytes that can be recovered with the free version. An important thing to have in mind is that this software should be installed on a different driver from the driver you want data to get recovered. This is because installation on the same drive can overwrite the previously deleted data, so it would be impossible for that data to get recovered.
What Can EaseUS Data Recovery Wizard Free Do?
You have three options to choose from when you start this program – Deleted File Recovery, Complete Recovery, and Partition Recovery.
Deleted File Recovery option is mostly used for recover deleted files. You can also un-erase some of the files if the file system is not damaged or broken. In general, all files can be easily recovered unless they are not overwritten by some new data. You can search by file name to get it recovered, and this is a great option if you remember the name of the file or at least some part of the name. EaseUS Data Recovery Wizard Free supports file previews, which is another handy option. This data recovery software free recovers the files and places them in a location of your choice.
Complete Recovery option is the best option in those situations when the drive cannot be accessed anymore. For example – after accidental formatting, the crash of the hard disc drive, or some form of corruption. The software will scan the selected hard disc drive and will search for lost folders, files, records, or other information. At the end, you will get a list where each partition is displayed with information like storage size, folder matches, file matches and a suggestion which is the right partition of the hard disc drive.
Partition Recovery is used if the Complete Recovery option did not find any partitions. The recovery process is the same as in the previous options.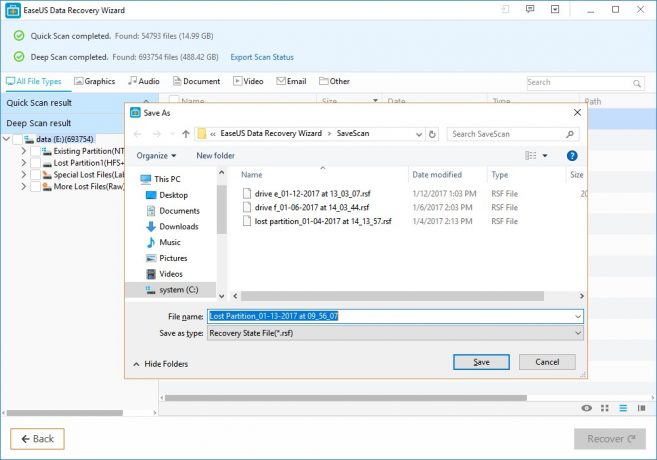 Features of EaseUS Data Recovery Wizard Free
Recovers lost and deleted files
Easy disc recovery after accidental formatting or hard drive crash
Recovers files and data if the partition is corrupt or from unformatted hard drives
Supports USB drive recovery and recovery of memory cards
Creates disc images to help you in data recovery
Final thoughts
EaseUS Data Recovery Wizard Free is a quick solution for people looking to recover deleted and/or lost files. It is designed in a way that allows even beginner users to use it with ease. It's definitely worth trying a product like this.