The PMAEE this 2013 is set to be given this August 25, 2013 and the deadline of submission of application will be two weeks before exam date.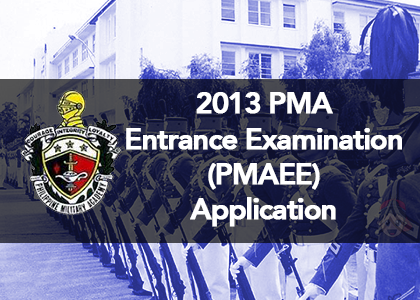 Philippine Military Academy (PMA) Admission Qualifications
Natural born Filipino citizen
Physically fit and of good moral character
Single and has never been married
At least High School Graduate
No Administrative/Criminal Case
Must pass the PMA Entrance Examination
Minimum height requirement: 5 feet for both male and female (not to exceed 6' 4" for both)
Age requirement: Applicants vying to enter PMA on 01 April 2014 should have been born from 01 April 1992 to 01 April 1997.
Note: Applicants younger than 17 years old but at least 16 years old on 01 April 2014 following the date of examination may apply for cadetship provided that the applicant possesses the above mentioned qualifications. Should the applicant pass the qualifying exam, the procedure in handling underage applicants will apply.
Benefits &Â Privileges
1. Receive a monthly salary while studying.
2. A well-rounded education; academics, leadership and physical fitness..
3. Progressive career as an officer in the Philippine Army, Navy or Air Force.
4. The rare privilege to serve your motherland.
Philippine Military Academy (PMA) Application Requirements
Download the application form here.
Properly and correctly fill up the application form.
Two (2) pcs 2×2 photo, white background, taken within the last months
NSO copy of Birth Certificate
Certified true copy of High School Form 137
Mail application to:
Office of Cadet Admission
Philippine Military Academy
Fort General Gregorio H del Pilar,
Baguio City 2602
PMA Online Application
The Philippine Military Academy is also accepting Online Applications.
High School Form 137 and NSO Certified True Copy of Birth Certificate are needed.
Scan those documents and save them as a PDF file.
When prompted, attach it to the PMA online application system
Other Information & Exam Coverage
The PMA Entrance Examination covers Algebra and Geometry, Grammar and Composition, Reading and Comprehension, Verbal and Numerical Reasoning and Pattern Analysis. Examination permits are sent through mail to the address reflected by the applicants in their application forms.
For more information, please visit the PMA Website.