Apple Reveals iPhone 5S | iPhoto, iMovie, Pages and iOs7
The iPhone 5S makes use of a radically re-engineered new chipset, called A7. Based on 64-bit architecture for the first time, the new iPhone 5S is said to be up to 56 times faster than the original iPhone. iOS 7 is now a 64-bit OS, but it's backward compatible with all the currently available 32-bit apps.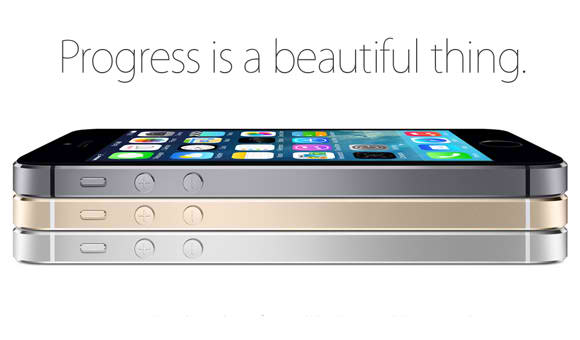 Apple says the new chip makes the iPhone 5S five times faster than the iPhone 5 and 56 times than the original iPhone. The A7 chip supports OpenGL 3.0/ES Version 3.0 for console-level 64-bit graphics. The coming game Infinity Blade 3 will be one of the first games to take advantage of the upgrade to deliver improved graphics.
– 8MP camera
The new camera has a wider f/2.2 aperture (as opposed to f/2.4) and a larger image sensor.
There is also a new double LED flash on the iPhone 5S, which Apple has dubbed True Tone, called this way because it allows to achieve more accurate colors tone.
The camera also comes with new image stabilization, albeit digital one.
The camera will also captures 720p videos at 120fps, allowing it to create slow-mo videos.
-Touch ID
As rumors suggested, the new iPhone 5S will indeed sport a touch sensor embedded into the Home button. It's a security feature and it's called Touch ID.
It supports multiple fingerprints and since it recognizes the owner, it can allow you to make purchases from the iTunes store, for instance, without the need to enter your password.
A metallic ring around the sensor detects a present of a finger even without pressing anything.
– Misc
The iPhone 5S will offer 10 hours of 3G talk time, up to 250h of standby, up to 40h of music playback.
The new iPhone 5S will be available in black, golden and grey colors.
Battery life is rated as follows: 10 hours 3G talk, 8 hours 3G browsing, 10 hours LTE or Wi-Fi browsing, 10 hours video playback, 40 hours music playback and 250 hours standby.
Apple is injecting a little more color into its flagship phone as well: The iPhone 5S will be available in white, black and now champagne gold as well. That marks a change from previous generations, which were available only in white and black. The iPhone 5S will go on sale Sept. 20 in nine countries: the U.S., Canada, China, France, Germany, Japan, Singapore and the U.K. Like previous generations, it'll come with 16, 32 or 64GB of storage for $199, $299 and $399, respectively – as long as you sign a two-year contract with your wireless carrier (T-Mobile's installment pricing may be a little different). By December, Apple plans to be selling the iPhone 5S in 100 countries on more than 270 carriers. Apple will also offer dyed leather cases for $39 each.